Wesbank cars for sale at auctions in Cape Town offer deals on cars in the Western Cape, South Africa.
You may be thinking, "Wesbank is a bank. Why are they auctioning off cars?" Yes, but this also means that they act as a lending institution, financing assets such as houses and cars.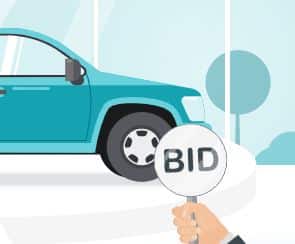 People are often unable to meet the necessary monthly instalments on their car purchases or default on these payments. These cars will then be repossessed and sold on auction to help the bank cover any losses incurred.
What are the advantages of buying a repossessed car? 
When a bank is auctioning off a repossessed car they are not looking to make a profit. They only want to recover any losses or the remaining amount owed on the car. This means that these cars often sell for very low prices.
Because the banks want to sell off the cars quickly, it is usually easier to get financing for repossessed vehicles. Than it would be for ordinary car purchases.
Where are the Wesbank Cars For Sale?
There are public Wesbank cars for sale at auctions in Cape Town as well as other major cities such as Port Elizabeth, Bloemfontein, Gauteng and parts of South Africa.
If you want to go to a repossessed car auction, you can view the cars on offer one day before the auction. To see if there are any vehicles you like.
Although these lists are subject to change on the actual day. You can even secure financing for the vehicle before the actual event.
Every Wednesday and Saturday, Burchmore's host an auction of repossessed vehicles at Marconi Cresent, Montague Gardens, Cape Town. For more information, call (021) 551 2320
Every second Wednesday, Wesbank auctions off repossessed vehicles in Cape Town. At the Aucor Auction House (Aucor Park, 17 Dacres Ave, Epping 2, Cape Town) at 10:30am. For further information, call 021 534 4446.
You can also contact Wesbank directly to ask when the next public auction in Cape Town will be held. You can also visit your local Wesbank branch to make an enquiry.
Tips for Buying Repossessed Cars For Sale at Wesbank Car Auctions
They don't accept cash at auction events. So you have to come prepared with a bank guaranteed cheque.
Look for an online auction guide if it is your first time attending an auction. Or bring an experienced auction-goer with you.
You cannot test drive any vehicles on the day. So make sure that you know a bit about cars yourself. Or that you bring along someone who does. You will need to thoroughly inspect the car you like. To ensure that you are actually landing up with a good deal rather than a junk heap.
Look out for the auction personnel who are there to help you when viewing the different cars on offer.
Consider attending one or two events before actually bidding. So that you can get an idea about the proceedings.
Before going to an auction it is important to conduct research to compare the car you like with similar vehicles on the market. When you come to a car auction knowing what you should be paying for the car you will be well-equipped to make a good buy. To do this, simply look online at cars for sale. Or visit your local dealership for further insight.
Remember that any vehicle to buy is subject to Value Added Tax (VAT) that will be added on after the sale has been made. So be sure to prepare yourself financially for this.
Have fun! Finding a good car deal from a Wesbank repossessed car auction should make you smile so go out and there and enjoy yourself!
Attend Other Popular Wesbank Car Auctions
To attend other popular Wesbank car auctions you will have to know of all the venues where these auctions are taking place.
Bank reposed vehicles are always cheaper to purchase as they are second hand, but still in good condition.
These auctions take place in Durban, Gauteng and Cape Town among many other cities. To find where exactly these auctions are, you will have to visit or contact the Wesbank team and get the information from them.
It isn't easy these days to finance a brand new car, which is why so many people are bidding on cheap cars at auctions.
You don't have to already have a car in mind. But you should have a budget when you attend Wesbank car auctions. There are lists with plenty of different bank repossessed vehicles for sale to choose from when bidding begins. But remember to stick to your budget and don't bid unless you have the right amount of money.
Wesbank Cars For Sale with Finance
Whether you are in Cape Town, Durban or Gauteng doesn't matter, you are sure to easily find where these auctions are taking place and you can go and look at the cheap cars that are for sale. In order for you to finance a vehicle at an auction, you have to be able to pay the full amount there and then.
Or you can speak to them about Wesbank finance for a vehicle.
Wesbank should be able to give you a list of cars for sale and where and when their next auctions will be. All you have to do is make sure that you are there when you need to be.
If there are auctions six months away, that gives you even more time to save up some more money if you need to. Go to the popular Wesbank car auctions if you wish to buy a decent car at a reasonable price.